(WINDSOR, ONTARIO) GaiaDigits is thrilled to announce that we are selected to participate in the Innovative New Program AC:Studio. There are 100 high-impact Canadian businesses invited. All of them have innovative products, big ideas, or great technologies. The founders will receive up to $100,000 in seed funding and work with innovation partners at Uvaro, SnapPea Design, Conestoga College, Innovate Niagara, and WEtech Alliance to go from startup to scaleup. GaiaDigits is grateful to be given this opportunity. We will work closely with mentors and other selected companies to contribute to the Canadian ecosystem and innovation.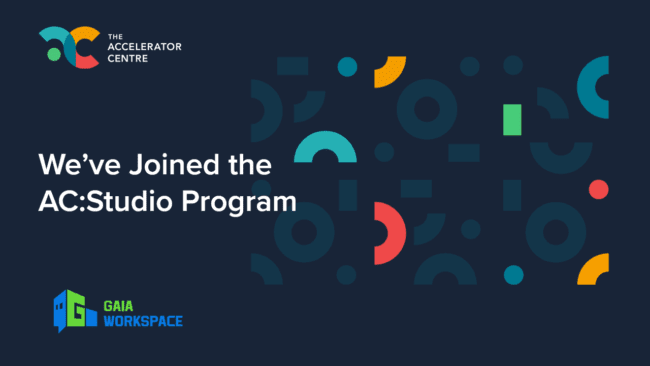 Quotes:
"We're proud to kick off the AC:Studio program with these amazing companies. These 100 companies represent the talent, drive, and entrepreneurial spirit that our innovation ecosystem is known for. More importantly, they represent the diversity of technologies, innovations, and ideas that will tackle the large societal challenges ahead of us. Our AC:Studio program model will enhance theses founders' ability to scale rapidly through access to capital, support, mentorship, and by leveraging our tremendous ecosystem and the network effects of our partners."
– Jay Krishnan, CEO, Accelerator Centre
"The Waterloo Accelerator Centre and the AC:Studio Program is providing Canadian entrepreneurs with access to the tools, mentorship and support they need to grow and succeed in this important sector. Supporting economic growth through Canada's technology sector is a priority for the Government of Canada."
– The Honourable Filomena Tassi, Minister responsible for the Federal Economic Development Agency for Southern Ontario
"We appreciate this opportunity that brings many different Canadian startups and scaleups together to learn from mentors and each other.  We'd like to communicate with people about our three-year path in this market and also expect to exchange some insights and innovative ideas on business strategies. The world is unpredictable like the pandemic. Our innovation on Hybrid Work solution aims to bring people more flexibility and benefits in the workspace."
– Cheng Ye, CEO & Founder of GaiaDigits.
About the Accelerator Centre
At the AC, we exist to help ambitious dreamers impact global change through their businesses. The AC is ranked Canada's #1 private business accelerator and is among the top five such organizations globally. We offer an extensive selection of customizable opportunities for startups across Canada—allowing founders to rapidly bring their innovation to life. We work with our global partners to bolster the innovation ecosystem in Waterloo and beyond.
About FedDev Ontario
For 13 years, the Government of Canada, through FedDev Ontario, has worked to advance and diversify the southern Ontario economy through funding opportunities and business services that support innovation, growth and job creation in Canada's most populous region. The Agency has delivered impressive results, which can be seen in southern Ontario businesses that are creating innovative technologies, improving productivity, growing revenues, creating jobs, and in the economic advancement of communities across the region. Learn more about the impacts the Agency is having in southern Ontario by exploring our pivotal projects, our Southern Ontario Spotlight, and FedDev Ontario's Twitter, Facebook, Instagram and LinkedIn.
About GaiaDigits
GaiaDigits is a cloud-based Workspace Management company, located in Windsor. It aims to help businesses and organizations increase work efficiency, lower operation costs, and improve office utilization rates. Gaia Workspace features Room & Desk Booking, Employee Screening, Task Management, Visitor Management, and Visualized Dashboard. We are proud to be a fast-growing and multi-national company, with diverse cultures, a healthy working environment, and balanced work and life. We are committed to bringing more insights and value to you.
Media Contacts
Betty Xiang
Marketing & Operation Manager
Bettyx@gaiadigits.com
Reference Accelerator Centre Announces 100 high-impact Canadian startups selected to participate in innovative new program, AC:Studio