People are experiencing increasingly pressure from difficult of balancing between work and life during the COVID-19 pandemic. According to Government of Canada, as of December 22, 2021, the confirmed cases (last 7 days) of COVID-19 in Canada was 71,171. With this situation, "57 per cent of Canadian employees expecting flexible working arrangements to continue post-coronavirus pandemic, 54 per cent of Canadian employers are adopting a hybrid working arrangement, according to a new survey by Mercer Canada" (Blake Wolfe, September 2021).
How does a new workplace look like in the post-pandemic world? Due to the current situations, hybrid working model has become popular. The hybrid workplace model is a type of work environment that combines models of remote and in-office working. In a typical hybrid workplace, employees, to some extent, can choose where and when they work based on their nature of work (Steve Hogarty, April 2021).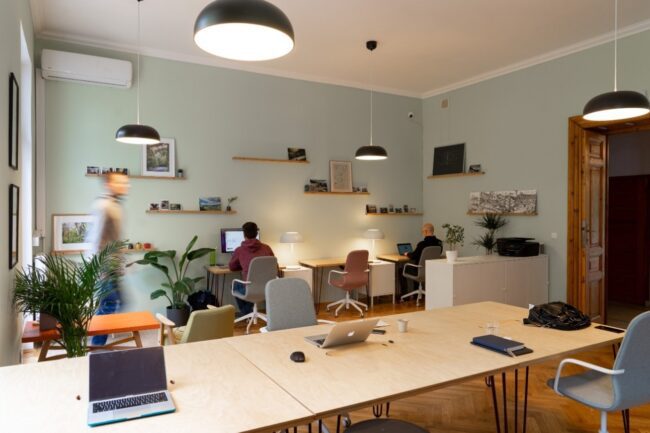 Why Hybrid Workspace matters?
Hybrid office mode is driven by different forces. From the employers' perspective, most people realized that their office occupancy/utilization rate is low even before the pandemic. And the Covid made this situation worse. It does not make sense to rent the big office and leave it empty. Another force is the trend of small and micro international companies who focus on niche market but have operations globally. They are looking for office solution from traditional shared-office space like Regus, innovation centre, and entrepreneur centres, where people can rent the desks for their employees based on different memberships benefits. Their employees need an office for high density collaboration work. However, they are travelling, visiting customers or partners for the most of their time, therefore, a fixed rate desk is not reasonable.
The third force is the real estate operators who realize the ghost office in the Covid is dangerous which means high business risks even post the pandemic. They are also thinking about innovative way to manage the office buildings more effective to their clients and help the clients to save. They are thinking about how to increase the productivity and hybrid collaboration levels in the next gen office. Enable both face to face communication and remote connections with distributed workforce at the same is extremely important. The voice and video collaboration drives more creative and meeting spaces in the office area than before. It will breakdown the boarder of traditional office and online collaboration tools, and bring the new solutions to manage the meeting, collaboration, task tracking and employee screening in the same place. We will see more and more evolutions and merging between Workspace solution with traditional office tools.
As business reopens, hybrid working style such as onsite plus remote working model becomes a routine (Stephen Miller, April, 2021). Both employers and employees are ready to embrace the new norm. Why does the Hybrid Working Style matter?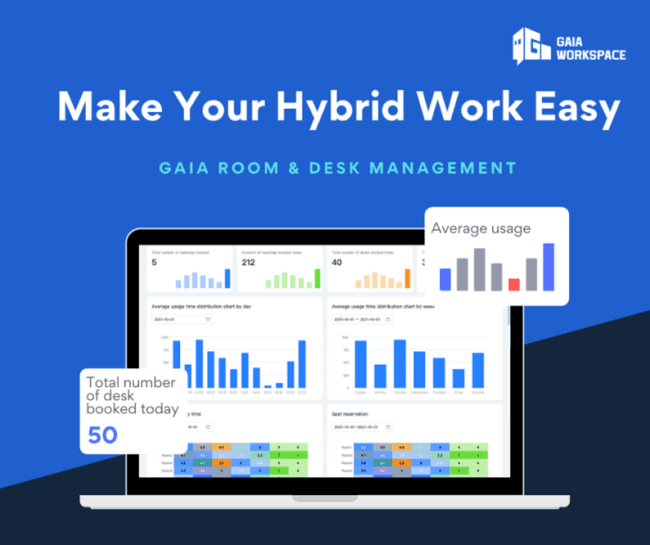 Hybrid working style which allows work from home and work onsite meets most businesses' needs. Based on the health regulations, keeping social distance and washing hands frequently are significant to prevent the spread of the virus. Therefore, the 50% cap of capacity limit for workplace was highlighted. That means a limited number of employees can be allowed to work onsite in a daily basis, which drives the development of hybrid working model. Some work can be completed remotely and individually but some work requires face-to-face collaboration among team members such as brainstorm debriefing.
Another reason is that Hybrid Workspace model saves employers' money and employees' time. According to Amy Fontinelle, companies that adopt a hybrid workplace model can save an estimated $11,000 a year on human resource costs. On one hand, they can save monthly workplace rent. On the other hand, employees can save time on daily commuting.
How can Gaia Workspace help employers and employees?
Gaia Workspace is a user-friendly tool for collaborative workspaces, offering room & desk booking, employee screening, vaccine & test tracking, and task management. It simplifies screening, tracking, and booking processes into a single powerful solution. This application is also integrated with Microsoft Teams, which make the end users easy to handle their activities without opening a new application on mobile or laptop. The key and fundamental goal of hybrid office mode is to make the collaboration easy, reduce the unnecessary office space and give employees more flexibility in their daily works. With easy-to-understand user experience, Gaia Workspaces makes workspaces efficient and safe. Gaia Workspace also comes with the responsibility of ensuring transparency. An enterprise app allows teams to record information related to their schedules and bookings in one place. This ensures better collaboration among colleagues and allows them to plan their schedules to make the best of the few days they come to the office.
Reference

Amy Fontinelle (October 19, 2021) The Economic Impact of a Hybrid Office. https://www.investopedia.com/the-economic-impact-of-a-hybrid-office-5200417

Blake Wolfe (September 2021) 54% of Canadian employers adopting hybrid work, meeting employee expectations: survey. https://www.benefitscanada.com/human-resources/hr-communication/54-of-canadian-employers-adopting-hybrid-work-meeting-employee-expectations-survey/

Steve Hogarty (April 2021) What is the hybrid workplace model?  https://www.wework.com/ideas/workspace-solutions/flexible-products/what-is-the-hybrid-workplace-model

Stephen Miller (April 2021) As Offices Reopen, Hybrid Onsite and Remote Work Becomes Routine. https://www.shrm.org/resourcesandtools/hr-topics/benefits/pages/offices-may-operate-differently-than-before-the-pandemic.aspx
About Author:

Betty Xiang is the Marketing and Operations Manager at GaiaDigits Inc. She graduated from University of Windsor majoring Master of Education. Before devoting her work fulltime to GaiaDigits, Betty worked as Research Assistant at the University of Windsor. With over five years in cross-cultural communications, Betty has unique insights in different industries, which supports her current work in the marketing field. Her experience brought her visions and creation in different marketing events, projects, and conferences. She is determined to deliver the most useful information to audience and serve businesses in need.