[WINDSOR, JULY 21] – Gaia Workspace, a leading provider of workspace management solutions, is excited to announce the launch of its latest feature, External Booking. This highly anticipated addition will be available starting July 21, revolutionizing the reservation process and providing a host of benefits for both administrators and external personnel. With this new feature, Gaia Workspace empowers organizations to streamline event and venue management by allowing external individuals to check in and access their facilities through the Gaia Workspace platform.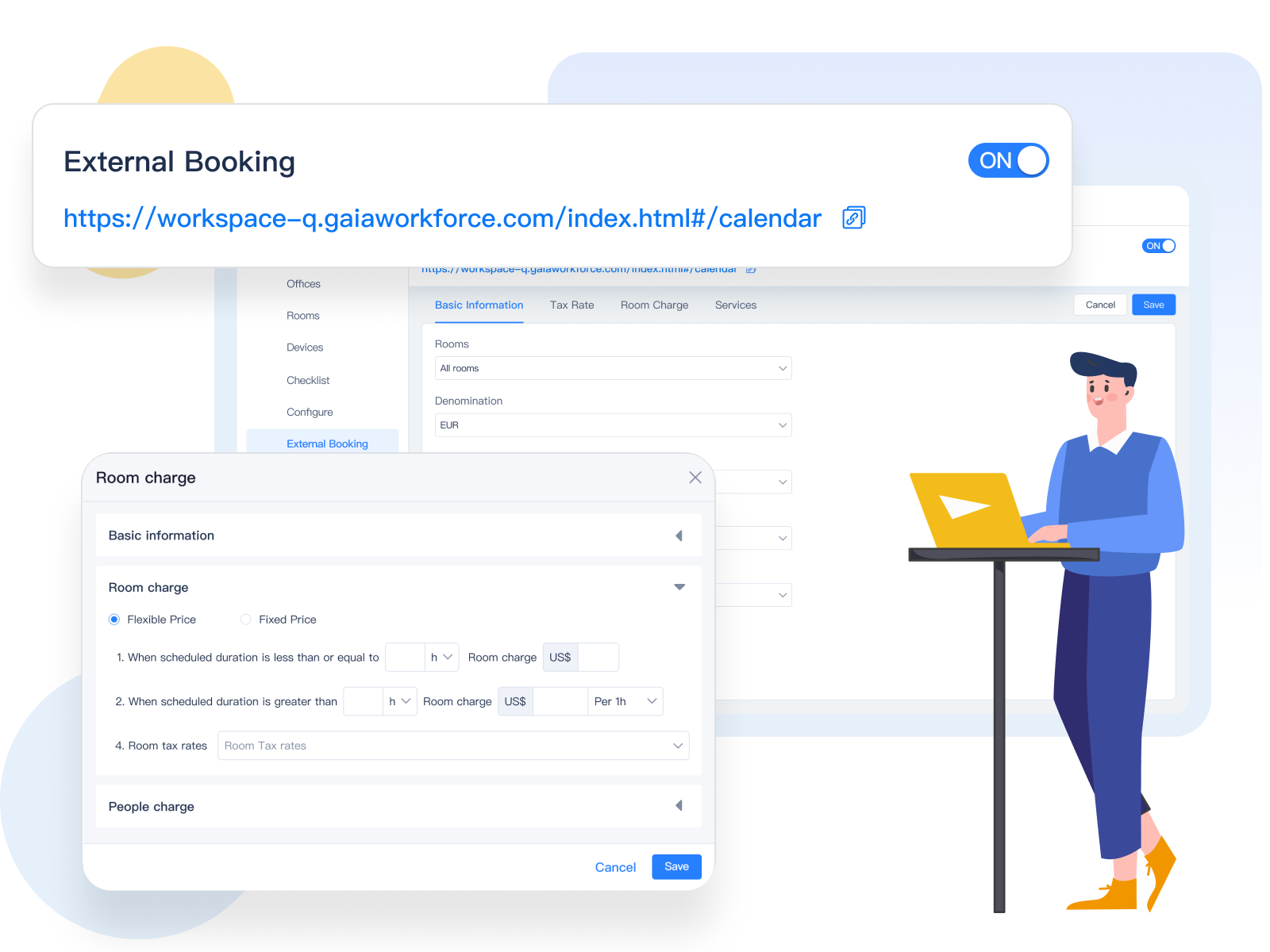 Simplified Reservation Sharing: By enabling the external reservation switch, administrators can generate a unique reservation link. This link can then be shared with external personnel or on your website, granting them easy access to the reservation system.
Flexible Room Pricing: Our new feature empowers administrators with the flexibility to set room prices to meet their specific needs. Through a user-friendly configuration page, adjusting and customizing room pricing becomes a breeze, ensuring the right rates for every booking.
Transparent Billing Rules: We value transparency and aim to provide clarity to our users. With External Booking, detailed billing rules are made readily available on the user reservation page. This enables individuals to understand the billing process, ensuring transparency and informed decision-making.
Efficient Order Management: Upon submission of a reservation, our system instantly generates an order for administrators to manage seamlessly. This means administrators can easily edit and modify orders as required, allowing for smooth processing, and accommodating any changes.
Calendar Visualization: To enhance visibility and improve planning, successful reservations are prominently displayed on the calendar. This intuitive calendar view allows administrators and users to quickly assess room availability and occupancy, simplifying scheduling.
"We are thrilled to introduce the External Booking feature to our Gaia Workspace platform," said Cheng Ye, CEO of GaiaDigits. "By enabling organizations to easily manage external bookings, we are revolutionizing the way workspace management is handled. Our goal is to provide a comprehensive solution that caters to the evolving needs of modern workplaces."
The release of External Booking marks Gaia Workspace's commitment to delivering an exceptional event and venue booking experience. With simplified sharing, flexible pricing, transparent billing, efficient order management, and an intuitive calendar display, this feature is set to revolutionize how you book spaces. Get ready to experience the convenience and efficiency of External Booking. Stay tuned for more updates!