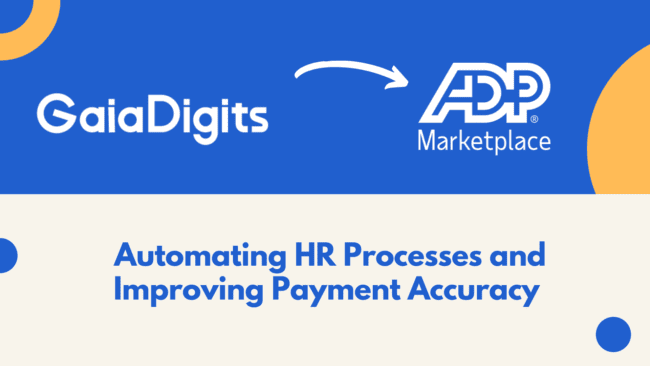 Recently, Gaia WFM Suite has successfully launched an integration on ADP Marketplace, a digital HR storefront of solutions that integrate with ADP®. Gaia WFM suite is an all-in-one workforce management for different businesses, consisting of Core HR, Employee Scheduling, Time & Attendance, Leave Management, Workforce Analytics, and Workforce Mobile. GaiaDigits has tailored its WFM solution in order to better solve HR problems. It helps businesses and organizations increase work efficiency, lower labour costs, improve employee satisfaction and avoid compliance risks.
GaiaDigits' integration with the ADP Workforce Now® platform streamlines the flow of employee data between Gaia WFM Suite and ADP Workforce Now. For example, ADP can sync all the organization, PIM and skill info into Gaia WFM automatically in the daily base. In urgent cases, the operation manager can make a real-time sync between the two systems. Once the Gaia WFM system generates the schedule and collects the time captures, overtime and leave records, Gaia can export the complex attendance data into ADP payroll automatically based on the pre-defined pay cycle. It helps HR save time and avoid mistakes on data entry. This will eliminate the most payment errors and compliance risks.
Fintech CEO Chen Amit gives the following example of how payroll errors can quickly become costly: "If a company is making 500 payments a month, a 2% error rate is only 10 payments and would seem acceptable. But even 10 errors a month can lead to $10,000USD a year in fees and labor depending on the people and time involved." With the Gaia WFM Suite's new integration with ADP, ADP clients can now easily complete payment process, reduce workload, and improve efficiency.
Furthermore, Gaia WFM- SPM (sales performance management) can help the sales operation managers, senior HR/finance manager to design, simulate and evaluate different incentive plans, and automate the commission calculations. It is very helpful for big and complex B2B or B2C organizations to visualize the data and drill down based on locations, business units or roles.
GaiaDigits' integration with ADP is dedicated to bringing strategic value to customers, especially those who have complex business operations in multiple locations. "With Gaia smart scheduler, businesses can improve productivity in terms of scheduling hour utilization rate. We help businesses reduce significant overtimes expense and avoid 90% compliance risks," says Cheng, CEO of GaiaDigits Inc. We hope to provide premium services to our customers and continue the tremendous growth through this integration with ADP."
ADP, the ADP logo, and ADP Workforce Now are trademarks of ADP, Inc. or its affiliates or licensors. The information in this document was prepared by GaiaDigits and GaiaDigits is solely responsible for its accuracy and completeness. ADP makes no representation as to the accuracy or completeness of any information contained herein.